PINE FOREST
Pines cover a large part of the uplands, found where temperatures are moderate to cold, up to the treeline at about 4000 meters (13,000 feet). Characteristic pines are:
HIGHER, DRIER LOCATIONS
Pinus oocarpa
Pinus ayacahuite
Pinus strobus
LOWER, MORE HUMID LOCATIONS
Pinus pseudostrobus
Pinus tenuifolia
Pinus montezumae
Pinus teocote
---
PINE-OAK FOREST
Found between 800 to 2200 meters (2600-7400 feet), this forest occurs in many kinds of terrane, with an average annual rainfall of aboaut 1200 mm (47 inches). Characteristic trees are:
PINES:
Pinus hartwegii
Pinus montezumae
Pinus oocarpa
Pinus strobus
Pinus ayacahuite
OAKS:
Quercus corrugata
Quercus oleoides
Quercus peduncularis
Quercus polymorpha
Quercus acatenangensis
Quercus brachystachys
Quercus conspersa
Quercus skinneri
---
DECIDUOUS FOREST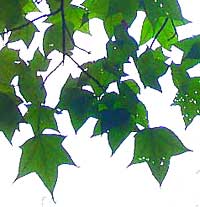 Note Sweetgum's distinctive
3- & 5-pointed leaves
Occurs from about 800-2200 meters (2600-7400 feet) in elevation, especially on slopes and ridges exposed to northern winds off the Gulf. Abundant rain falls during the summer, typically about 2000 mm (79 inches). Because of high humidity, tree trunks and limbs are heavily covered with bromeliads as well as some ferns and orchids. A very striking feature of the flora is that many of its species are the same, subspecies of, or "sister species" to, species typical of North America's eastern forests. Sweetgum, Liquidambar styraciflua, whose distinctive 3- and 5-pointed leaves are shown above, is the most conspicuous of these.These are relict species left from the last Ice Age. As the glacier retreated, to remain in a temperate climate, plants could either follow the glacier back north, or move up in elevation. The ancestors of these relect species moved up in elevation.
Characteristic trees are:
Sweetgum

, Liquidambar styraciflua
Quercus acatenangensis
Cornus disciflora
Carpinus coroliniana
Clethra suaveolens
Quercus candicans
---
EVERGREEN SCRUB
In the state's northern mountains and the southern Sierra Madres, this vegetation emerges where the climate is temperate and humid, with abundant summer rain and an average annual rainfall of about 2560 mm (100 inches). Typically it occurs in patches at altitudes between 1200 and 2300 meters (3900 to 7500 feet). Characteristic species include:
Clethra suaveolens
Oreoponax sanderianus
Matudaea trinervia
Inga micheliana
Saurauia villosa
Chiranthodendron pentadactylon