Excerpts from Jim Conrad's
Naturalist Newsletter
from the May 8, 2016 Newsletter with notes from a visit in mid April to Lacanja Chansayab in the Lacandon Reserve, Chiapas, MÉXICO
CYDISTA TRUMPET FLOWER
On April 14th as I hiked small gravel backroads around Lacanja Chansayab in Chiapas's Lacandon Reserve, a prettily flowering vine dangled from trees at the roadside, shown below: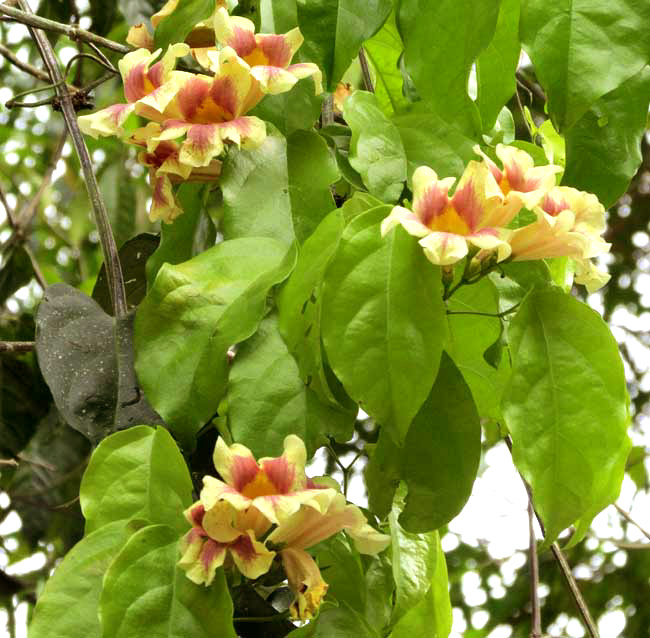 The flowers' deep corolla tubes, and the compound leaves' two leaflets on long stems, or petiolules, can be seen from below a flower cluster, below: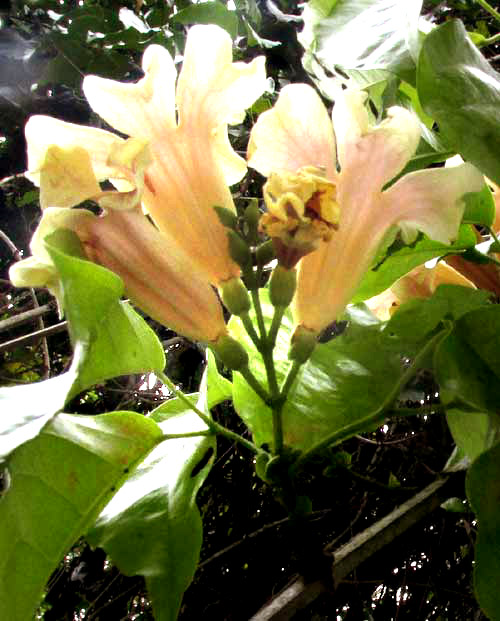 Such large, tubular flowers with five spreading lobes in few-flowered clusters on climbing, woody stems with two compound leaves arising opposite one another at stem nodes, immediately suggests the big Trumpet Creeper Family, the Bignoniaceae. Most flowers in that family bear four stamens -- sometimes only two -- as opposed to the more typical number five, and a peep into a blossom's throat finds four stamens, as shown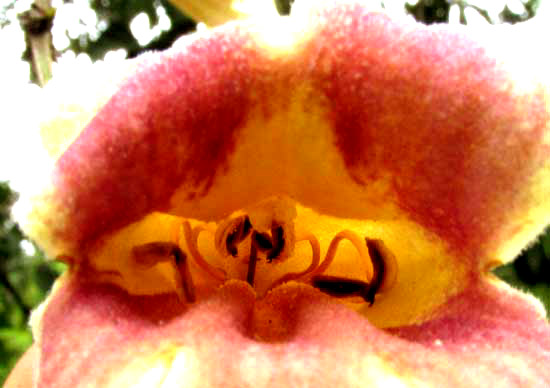 The Trumpet Creeper Family is a big one in the humid American tropics, so other features were sought to help with identification. An outstanding field mark for this species is that its stems are sharply squared, and at the vine's stem nodes arise unusually large, leafy, rounded stipules, as shown below: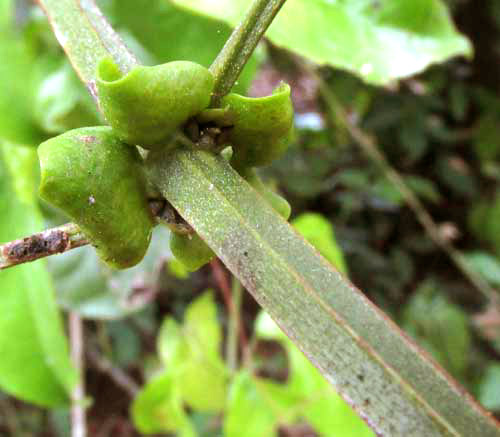 Sometimes tendrils on vines of the Trumpet Creeper Family fork, and sometimes they don't. This species' tendrils don't seem to fork, as seen below: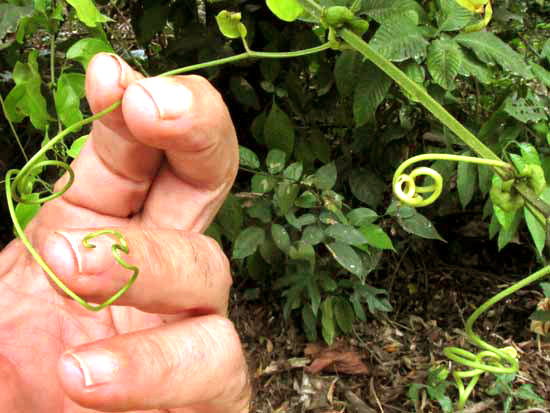 This turned out to be CYDISTA POTOSINA, with no good English name, though it's fairly common in southern Mexico, including the Yucatan Peninsula, where I've simply overlooked it until now, as well as much of the rest of lowland tropical America. The species' flowers can be either white or yellow.
The online Blioteca Digital de la Medicina Tradicional Mexicana reports that in southeastern Mexico the leaves of Cydista potosina are used generally for wounds, and along the Yucatan Peninsula's Caribbean coast an extract is used for insect and spider bites, plus there are other uses as well.