Excerpts from Jim Conrad's
Naturalist Newsletter
from the November 19, 2007 Newsletter issued from Yerba Buena Clinic just outside Pueblo Nuevo Solistahuacan, Chiapas, MÉXICO
about 1740 meters in elevation, ± LAT. 17° 11' 27"N, LONG. -92° 53' 35"W
DRYING COFFEE BEANS IN THE STREET
Last Monday when I visited Pueblo Nuevo to issue the Newsletter I visited a "frutaría," or fruit store, to buy a few pounds of bananas and other things. You can see what was on the street before the frutaría in the picture below: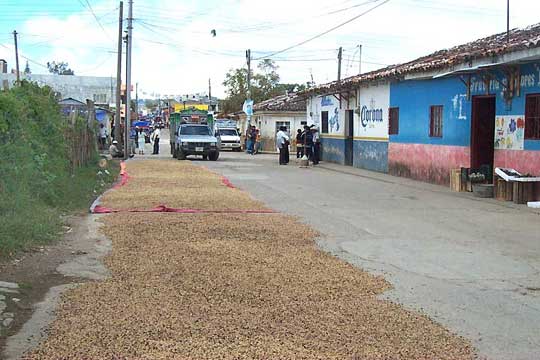 Those are coffee beans drying in the open air.
In and around Pueblo Nuevo I see coffee shrubs next to people's homes but really this is not coffee-growing country. It's too high and chilly here for growing coffee commercially. The frutaría owner had bought these beans from somewhere warmer downslope, now is drying them himself, and later will grind them, roast them and sell packages of freshly ground coffee in his store.
One reason I like this particular frutaría -- the blue and red one at the right in the picture -- is that the owner can just look at a bag of bananas and tell you how many bananas need to be added or subtracted in order to have the 1.5 kilo or whatever quantity you're buying. He's never wrong and can do the same thing with carrots, potatoes and chili peppers.