Excerpts from Jim Conrad's
Naturalist Newsletter
from the April 21, 2008 Newsletter written in the community of 28 de Junio, in the Central Valley 8 kms east of Pujiltic, Chiapas, MÉXICO
about 800 meters in elevation, ± LAT. 16° 18'N, LONG. -92° 28'
CHIFLÓN FALLS
About half an hour up the valley to the west you come to the most developed ecotour destination in our area, Chiflón Falls, or Cascadas El Chiflón, the word chiflón meaning "big whistle." This week the campesino cooperative who developed the site invited us to visit, to help us with our own ecotour plans so that we can become part of an "ecotourism corridor" through Chiapas's Central Valley.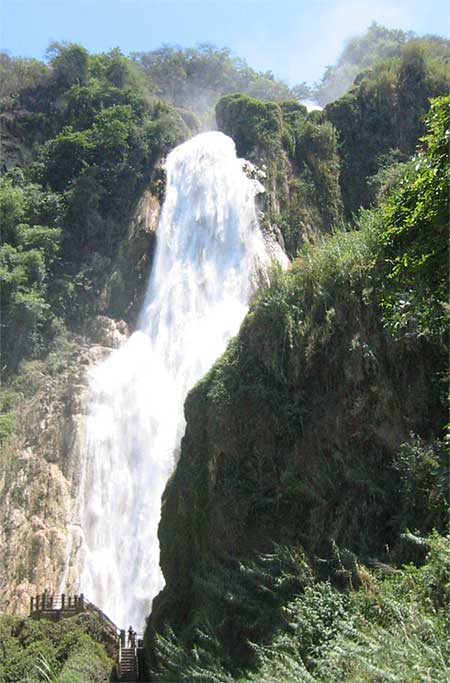 Above you can see the main waterfall, Cascada Velo de Novia, which more or less means Bridal Veil Falls. For scale note people at the lower left.
Geographically the falls represents a spot where water from the rainier Chiapas uplands descends into the arid Central Valley, where a lot of it will be absorbed by vast sugarcane plantings. The chemical-rich remainder will pool awhile in Angostura Lake before flowing into the Grijalva River, which will carry it north through Tabasco, into the Gulf of Mexico. We're much closer to the Pacific than the Gulf of Mexico, but drainage patterns can reflect many realities beyond mere proximity to the ocean.