Excerpts from Jim Conrad's
Naturalist Newsletter
from the October 22, 2007 Newsletter issued from Yerba Buena Clinic just outside Pueblo Nuevo Solistahuacan, Chiapas, MÉXICO
about 1740 meters in elevation, ± LAT. 17° 11' 27"N, LONG. -92° 53' 35"W
BOTIL BEANS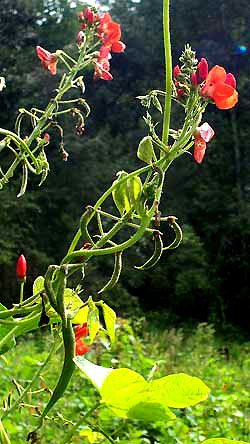 Inés's weedy field of bean vines is pretty to see especially because the bean flowers are red, as shown at the right.
In North America you seldom see red bean flowers, so it's worth reflecting on the diversity of bean-plant species in general.
Regular garden beans belong to the genus Phaseolus (not soybeans, which are the genus Glycine). Of the many species of Phaseolus known, my old classic Bailey's Manual of Cultivated Plants lists twelve species commonly cultivated in North America, among which appear such well-known names as Lima, Kidney, Mung and Adzuki -- each a different species. Other species are known by such interesting names as Snail-flower, Metcalfe, Rice Bean, Moth Bean and Tepary Bean. Our most frequently planted bush and pole beans, such as "Kentucky Wonders," are considered Kidney Beans, and are Phaseolus vulgaris.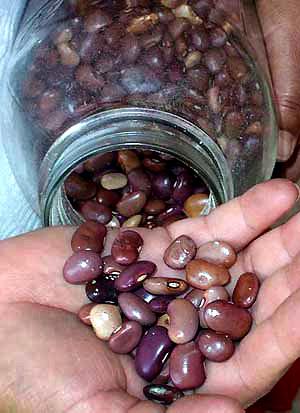 Inés's red-flowered beans key out to PHASEOLUS COCCINEUS, known commercially as Multiflora Beans or Scarlet Runners. They're native to the American Tropics. Inés calls them Frijoles Botil, or Botil Beans, Botil sounding like a native word, maybe Tzotzil. Inés harvests the beans, dries them, and stores them in big glass jars, as you can see at the left.
Notice how variously colored Botil Beans are, in contrast to the garden beans we usually plant up north. Our northern beans have been genetically selected to the point that there's little variability among them, but these native beans clearly still are lustily mixing things up, providing genetic diversity that may be behind their ability to compete with all those weeds and insects. Can you imagine what would happen to a Burpee Lima Bean planted among such rank weeds?
A neat feature of Phaseolus flowers -- a feature distinguishing the genus -- is that the blossoms' two lowest of five petals are united along one side of each petal into a scoop-like, boat-shaped "keel" and this keel is then strongly coiled. It's normal for Bean- Family flowers to have two petals joined into a keel, but this coiled feature is something special. You should look for it on bean flowers in your own garden. On some Botil-Bean flowers you can see the coiled keels knotted up in the blossoms' centers below.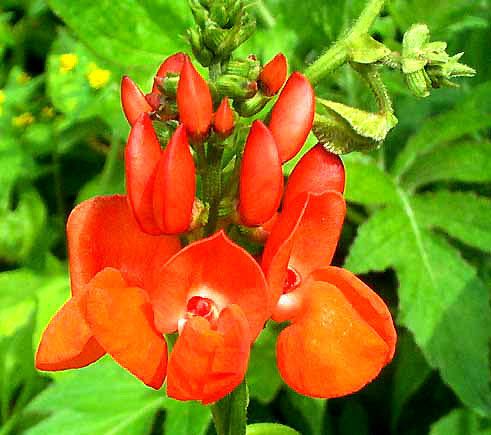 I wondered why a bean flower would coil its keel. Imagining myself to be a hummingbird approaching the flower I found that with the keel twisted to one side a hole was created beside the keel just right for inserting my beak!