GETTING INVOLVED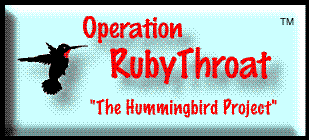 Most fair-sized cities host one or more birding clubs. They organize field trips, invite guest lecturers, show films of good birding destinations, provide educational services to local schools and, if they're good ones, they are involved in local environmental projects. Save the swamp, save the prairie patch, save the forest...
Part of the fun in joining such groups is being with people who get excited when you bounce into the meeting room some evening bellowing, "This morning I saw a Lawrence's Warbler!" and they get excited, too. If you see a Lawrence's Warbler, you can bet that the next morning you'll be leading a field trip so others can see it as well.
WEB SITES
On the Web a good starting place for looking for just about anything dealing with birding is the site called The BirdSource. There you can find such special-focus sites as the one called Hawkwatch International, and the one focusing on Peregrine Falcons and other predatory birds, called the Peregrine Fund. Following links, you'll also run into sites such as the one known as The Virtual Birder. In eastern North America Operation RubyThroat invites you to collaborate with others to study the behavior and distribution of the Ruby-throated Hummingbird. You can find out about creating and monitoring Bluebird nest boxes, and share info and data, at North American Bluebird Society. You may enjoy Cornell Lab of Ornithology's Project Feeder Watch.
In most towns the main birding group is affiliated with the national Audubon Society, which has a nice Web site. On the Web you can check out a list of all local Audubon chapters to see if one is near you. If there isn't, give a call to your local public library, or local biology teacher. If it turns out that your town doesn't have a birding club, maybe it'll be up to you to see that it does!
For many birders, the main event of the year is the Christmas Bird Count, sponsored by the Audubon Society and the U.S. Fish and Wildlife Service. Each year, between December 20 and January 1 or 2, thousands of birders all across North America fan out over the landscape actually counting individual birds.
This count is extremely valuable because it helps keep track of how well the various species are coping. Naturally, quite a few of the more specialized species grow rarer all the time. Once the Count is finished and the thousands of reports are turned in, results are published in a journal called American Birds. You can review count results on the web at the USGS Christmas Bird Count Geographic Analysis page. The USGS also provides distribution maps for North American birds.