TWO CACTUSES & A WREN NEST
Out in the scrub, especially in rocky places chewed and stomped severely by cattle, there are two ubiquitous cactus species, which you can see below: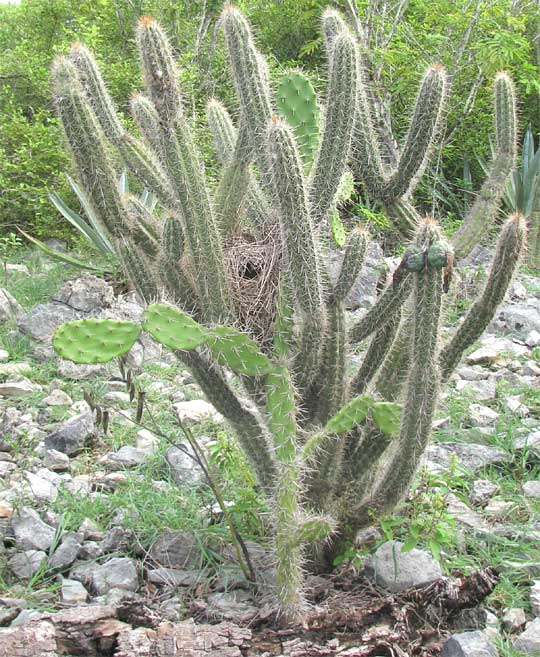 First of all, look for the wren nest, a ball of brown straw with a black entry hole approximately in the picture's center. Such covered nests with holes at the side or slanting downward are common out in the scrub.
The smaller, yellowish green, flat-jointed cactus up front, clearly one of the prickly-pears, I'm assuming to be OPUNTIA INAPERTA, sometimes called Nopalia gaumeri, notable for its slender, elongate pads. It's not flowering or fruiting now and here grows seven or more feet high.
The larger, much branched, cylindrical-jointed cactus behind the prickly-pear must be CEPHALOCEREUS GAUMERI, because I'm fairly sure it's a Cephalocereus, and C. gaumeri is the only Cephalocereus listed for Dzibilchaltún Ruins not too far to the northwest. Cephalocereus species often are referred to as old-man cactuses because they tend to develop white wool or long white hairs forming a dense mass at or near the column top -- they're white-headed, as in the picture. This species gets to eight or so feet tall here.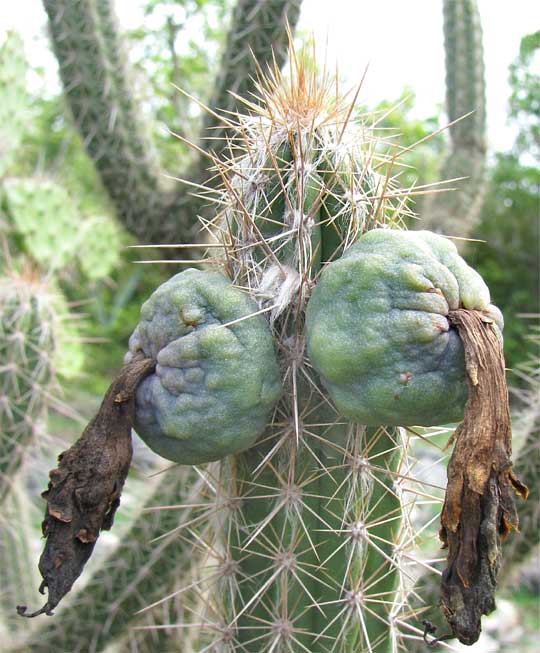 As shown above, this old-man cactus was fruiting. In that picture two somewhat flattened, spherical, or "depressed-globose," fruits, bear the limp, brown remains of the earlier flowers. Bearing the flower remains is typical for the species in the genus and I just wonder why. In this close-up you can also see tufts of white wool. On some joints the wool is much more conspicuous.
I suspect that both of these species are endemic to the Yucatán because I don't find them mentioned in my books, plus both have been named "gaumeri," which is the Latinized form of the name Gaumer. Upon finding Jatropha gaumeri and Mammillaria gaumeri during my 2006 stay in Río Lagartos on the Yucatán's northern coast, I wrote in my November 13th, 2006 Newsletter:
"George Franklin Gaumer (1850-1929) was a US citizen residing in the Yucatan from 1884 to his death, and he collected a remarkable number of rare and endemic species, which he sent to specialists for identification or, if they were unknown to science, for naming. Many of those specialists named the undescribed plants after their discoverer, Gaumer. There's Acacia gaumeri, Caesalpinia gaumeri, Thevetia gaumeri, Vitex gaumeri, and many more."