YELLOW OLEANDER- Aki'its
Much-planted Yellow Oleanders, Thevetia peruviana, with their small size, yellow, 2.5-inch-long (6cm) flowers, black fruits and willow-like leaves are easy to recognize. That's one below: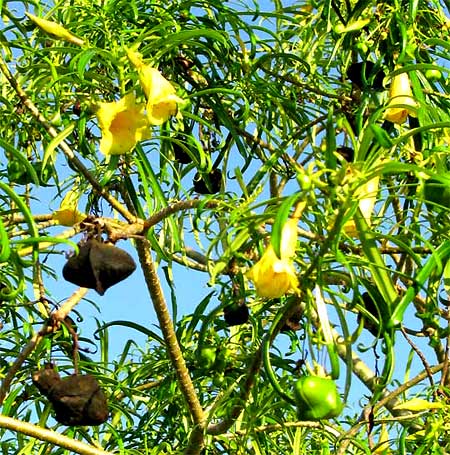 Yellow Oleander is not just a yellow species of Oleander; it's its own thing, a Yellow Oleander. Yellow Oleanders and "real" oleanders belong to the same family, the Dogbane Family, or Apocnaceae, but they are in completely different genera. One feature the two species share, however, is that all their parts are toxic.
Yellow Oleander's thick, four-sided, black fruit is unusual. While immature it's green, then turns bright, glossy red, and finally it becomes the dull black shown in the picture. Inside the fruit resides a smooth, brown stone sometimes called a "lucky nut." Enterprising natives have been known to string lucky nuts on necklaces and sell them as charms for carrying in the pocket.
Yellow Oleanders have been planted so widely for so long that it's unclear where they're from, though most experts, despite the species name peruviana, think it comes from southern Mexico, the Caribbean area and Central America. However, it's not found in the Yucatan's forests.