TREMA - Capulín
In Spanish the name Capulín is likely to be used for any small, spherical fruit with a fleshy covering, and the one below is one of them.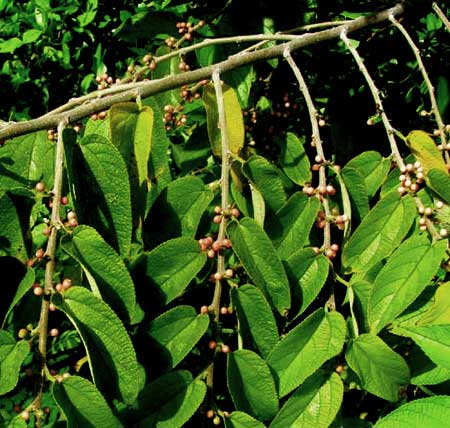 This medium-sized tree often shows up in fields that have been abandoned a few years, and at weedy woods edges. It's Trema micrantha, and you can imagine how birds love those hackberry-like fruits. There's no good English name for this tree, so typically English speakers just call it Trema. It's found in southern Florida and there it's called Florida Trema, but that name won't do in the Yucatan.
It's no accident that its fruits are like northern hackberries, and its leaves look like hackberry leaves. Both Hackberry trees and Tremas are members of the Elm Family. Tremas occur in much of Mexico and the Caribbean area south into South America.