PINK TABEBUIA - Roble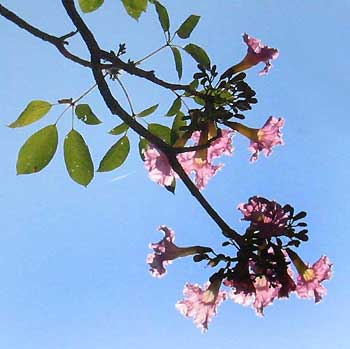 Pink Tabebuias, Tabebuia rosea, belong to the same Bignonia Family as Blue Jacarandas. As with Blue Jacarandas, sometimes in the dry season, in February or so, you see Pink Tabebuias completely leafless but resplendent with finger-size, funnel-shaped, flowers -- but flowers that are pink instead of purple. During the rainy season they may bear both leaves and flowers as shown our picture.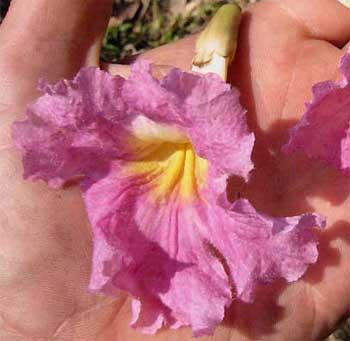 Pink Tabebuia's leaves are very different from the Blue Jacaranda's, though. Instead of being ferny and twice-compound like the Blue Jacaranda, Pink Tabebuia's leaves are "digitately compound" -- their five or so leaflets arise from atop the petiole like digits, or fingers, of a hand, as shown above.
At the left you can see how large the flower is.
In towns of the Yucatan Pink Tabebuias often are planted along streets. Sometimes when you see their intense pinkness beneath a deep blue sky they look unreal. However, not only are they real but, unlike Blue Jacarandas, Pink Tabebuias are native to the Yucatan, extending from Mexico to Venezuela.
Being a native tree, Mexican country folks traditionally brewed tea from its bark and leaves to bring down fevers.