AUSTRALIAN PINE
Australian Pine, Casuarina equisetifolia, isn't seen much in the interior but in some places along the coast it's abundant and so unusual looking that it deserves mention. Below you see some young ones next to a Hurricane-Dean-ravaged mangrove swamp north of Chetumal. Basically they look like pine trees.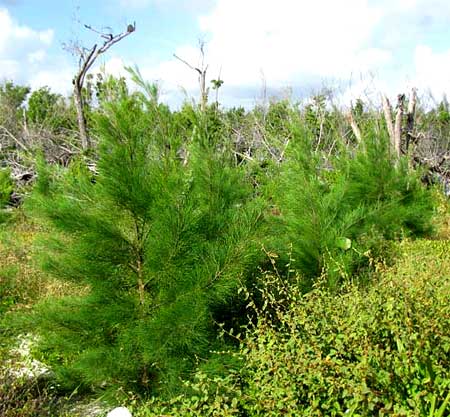 However, if you look closely at the "needles," you see something very unpine-like. Look: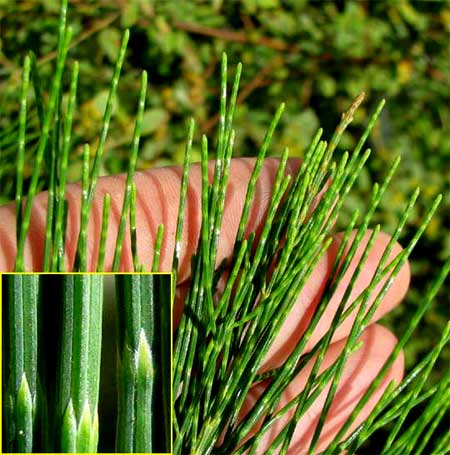 The inset at the bottom, left shows why Australian Pine isn't a pine. Pine needles aren't segmented. Australian Pine's "needles" are actually slender, toothpick-wide stems bearing minute scale-leaves in whorls of six to eight.
Australian Pines are a serious invasive species along the Yucatan's coast. Moreover, the species is highly allelopathic -- it produces chemicals that inhibit the growth of other species. Once Australian Pine gets established it can form pure stands with few other plants able to survive near them, offering relatively little food and shelter to wildlife. Dense stands of Australian Pine look lush and green, but ecologically they are deserts.
Therefore, in Florida the possession, collection, transportation, cultivation and importation of Australian Pine are prohibited by the Florida Department of Environmental Protection. On the other hand, Australian Pine is very tolerant of sand, sun and salt spray, stabilizes sandy, windblown soil, and grows quickly producing firewood in places where few other tree species can grow. I've seen it referred to as "the best firewood in the world." Below you see a cluster of cherry-sized Australian Pine cones: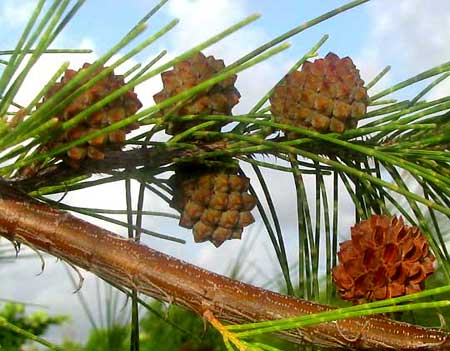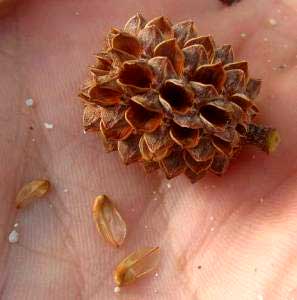 A cone with three papery-winged seeds below it is shown at the right. Australian Pine cones differ from cones of real pines in that their seeds do not fall from beneath woody, overlapping scales, but rather from what look like little turtle heads that spit out the seeds.