PEPPER BUSH
Here's another common eye-catcher that simply doesn't have a good English name. I made up the name "Pepper Bush" just so we can talk about it. Anyway, that's the plant below: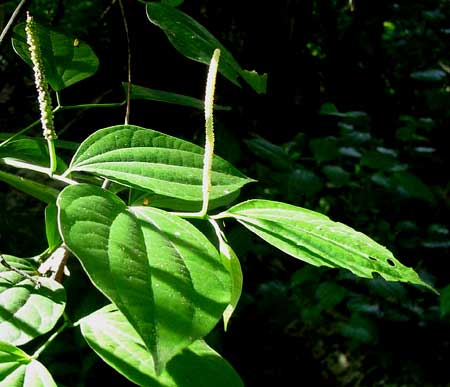 This little tree normally occurs in the shady understory. Note its spikes of tiny flowers and its leaves' unusual venation. The secondary veins connect with the several primary veins forming more or less quadrangular cells in a netlike fashion.
This is Piper amalago. The genus Piper contains many species, and often Spanish speakers refer to them all as Cordoncillos -- "Little Strings," referring to the flower spikes. It's worth taking a close look at the spikes, as shown atop the next page.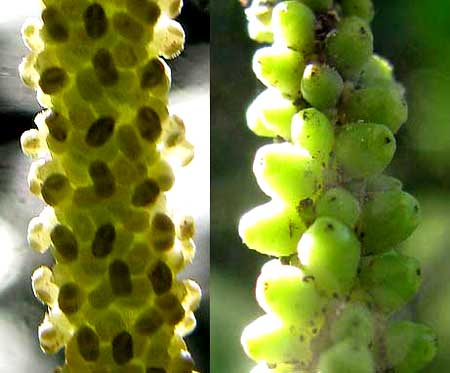 The spike at the left is flowering, while the one at the right bears developing pistils, or immature fruits. The interesting thing is that when the fruits are mature, they'll be genuine peppercorns. For, the genus Piper is the very one containing Piper nigrum of southern Asia, whose ripe fruits are the peppercorns ground into the black pepper so often used in Northern cooking. People in the Yucatan don't bother using the dried fruits of Piper amalgo as a spice, however, since they're too small to fool with. However, if you find a mature spike of them in the woods you can taste their definite pepperiness.