MADRE DE CACAO
Deep in the dry season, in February or so, you might see a tree looking very much like the North's Redbud -- a smallish tree with leafless branches abundantly blossoming with bean-type flowers -- except that the flowers are white or pale pink, not nearly as dark as the Redbud's. That's them below: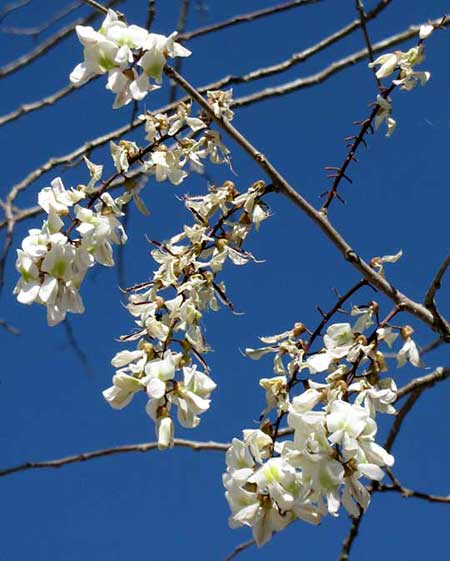 A close-up of one of the ¾-inch long (2cm), bean-type flowers is shown below: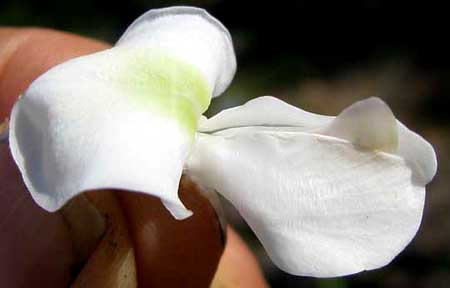 Even in the dry season you might find a leaf or two, dried-up and about to fall off, but showing its once-compound structure, as shown below: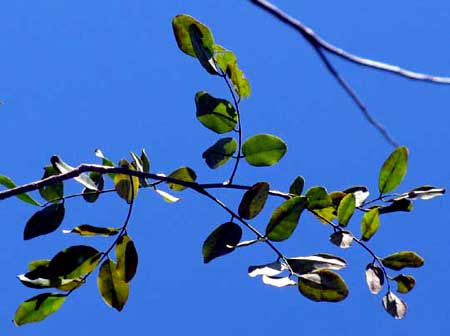 This is Gliricidia sepium and while it's native to Mexico, Central America and northern South America, it's also one of the most widely planted of all trees in the world's tropics -- explaining why it has a world of common names, including the English ones Quick-Stick and Cacao Shade. Often English speakers call it by one of its Spanish names, Madre de Cacao, a name reflecting its value for providing shade for Cacao plants.
Cut a leg-long stick of this tree, poke it into the ground, and if the ground is reasonably moist the stick will grow into a new tree in a single season. Place many sticks in a row and in a few months you'll have a "living fence." Livestock love eating its leafy branches, and it's good for them, containing a crude protein content of 18-30% and a high digestibility. In Spanish sometimes the tree also is known as Mata Ratón, or "Mouse Killer," because leaves and bark mixed with ground corn can be used as a rodenticide.