"DOG JASMINE"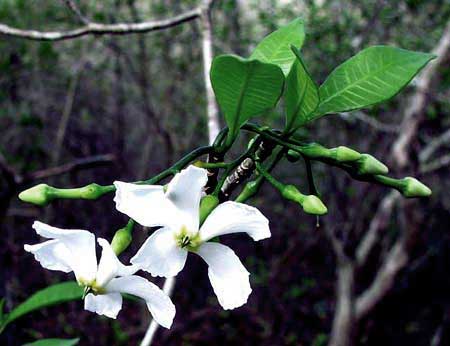 Now we end our superficial look at a few of the Yucatan's woody plants, and we're ending with another exceptionally pretty species whose name needs quotation marks around it because really it has no commonly accepted English name. In Spanish sometimes it's called Jazmín de Perro, which translates to "Dog Jasmine," so that's what we'll call it here. It's Tabernaemontana amygdalifolia, a member of the same family in which we also find Mandevilla vine, Oleander, Periwinkle and Frangipani, the Apocynaceae. The flowers appear in the late dry season, in April or so.
This wonderful little tree has been chosen to end this book because in the Yucatan's forests it's a good one for representing the many, many other such tree species that are too uncommon, too hidden in deep shadows or living in too unusual environments to attract the attention it deserves.
But, you can see for yourself what a worthy being "Dog Jasmine" is, and how graciously it seems to be inviting us all to pay attention to the Yucatan Peninsula's natural environment.