IGUANA HACKBERRY
Certain of the Yucatan's trees remind Northerners of plants they know up North, but they're definitely different. For example, the shown below bears fruits that are very similar to the North's hackberries or sugarberries, and the leaves have three major veins arising from their bases like those trees...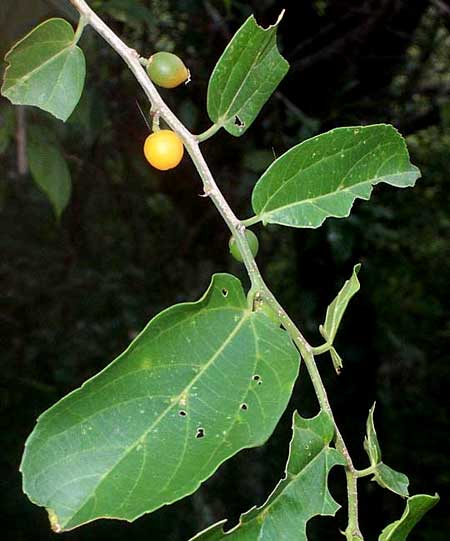 However, these leaves are too leathery to be hackberries or sugarberries, plus hackberry and sugarberry trees don't have curved spines along their stems like this one. Still, what's shown in the picture is a genuine hackberry -- a member of the hackberry/sugarberry genus, Celtis. It's the Iguana Hackberry, Celtis iguanaea.
Iguana Hackberries generally produce fruit late in the rainy season, in August or so. They show up in dry, sunny places at weedy woods edges and along roads. They're one of those species that start out looking like regular trees but as they grow older and larger their branches become slender and tend to lean onto other vegetation, as if they wanted to become vines, their curved spines holding them in place. Iguana Hackberries occur generally throughout the American tropics and subtropics.
Of course wildlife, especially birds, relish the fruits.