CHIT PALM
Another famous fan palm is the Chit, Thrinax radiata, shown below.
How do you distinguish Chit Palms from Thatch Palms? We've seen how the petioles of Thatch Palm fronds extend up through the middle of the Thatch Palm's fronds. Compare that with a Chit's frond below, where the petiole abruptly stops at the frond's base: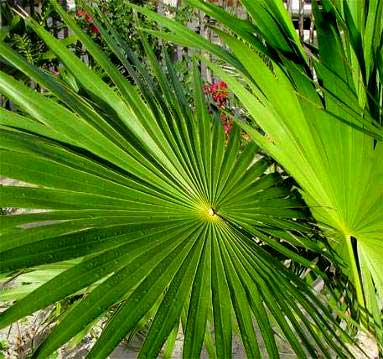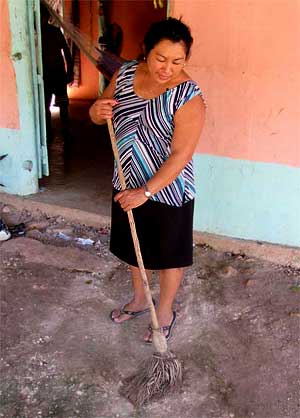 Not only do Chit frond petioles end abruptly where they meet the frond, but also notice the toothlike growth rising perpendicularly from the frond at the junction. That toothlike item is referred to as a hastula. Hastulas occur on fronds of several palm kinds but in the genus Thrinax hastulas are particularly well developed. Thatch Palm fronds don't have hastulas.
Among the Maya, Chits are famous because of this: Their fronds make good brooms. When the Maya see a Chit, they think "broom." At the right is a former neighbor, Doña Neima, using her well worn but easy-to-renew Chit broom.