SPANISH CEDAR - Cedro
Spanish Cedar, Cedrela odorata, produces particularly handsome, robust, walnut-tree-like leaves and olive-like fruits, shown below: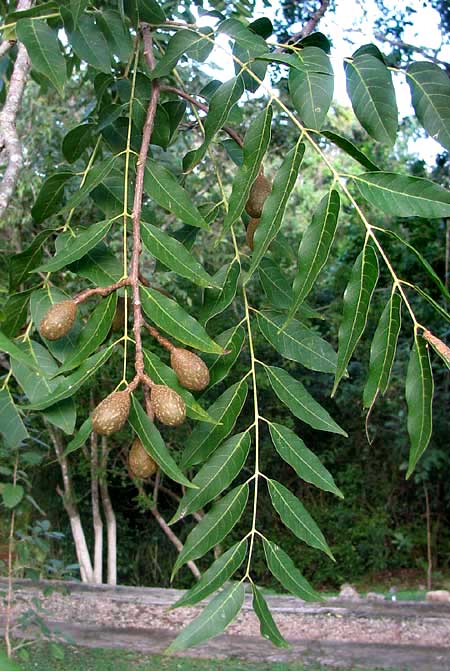 However, often we don't notice Spanish Cedar until late in the dry season, in April or so, when one day a big tree we've managed to ignore all year suddenly turns up with its dry-season-leafless branches absolutely bristling with 2½-inch-wide (6cm), star-shaped items, as shown below.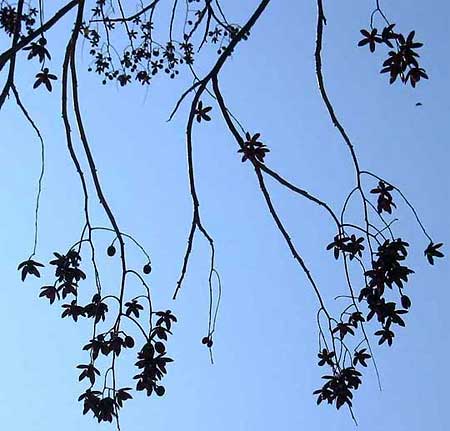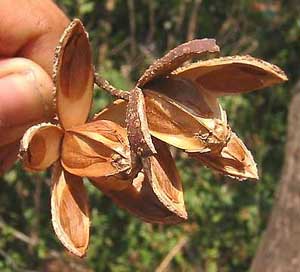 At the right you see the split-open, woody husks of Spanish Cedar's oval, capsular fruits. When the fruits open, papery, winged seeds flutter to the ground.
Obviously Spanish Cedar isn't similar to or related to the North's cedars, which are evergreen gymnosperms. The cedar connection comes about because the tree's wood is reddish and emits a sharp, resiny odor like northern cedars.
Spanish Cedars are very important timber trees. In fact, they have disappeared from large parts of tropical America because their wood is so prized, and often exported. The species shares many characteristics with Mahogany, for they belong to the same family, the tropical Mahogany Family, or Meliaceae. Up North the best-known member of the Mahogany Family is the Chinaberry Tree, introduced from Asia.
Spanish Cedars live in the hot, humid lowlands of Mexico, Central America and the West Indies.