BUTTERCUP TREE - Madera de Pasta
During the late dry season when many of the Yucatan's deciduous trees have lost their leaves, especially in abandoned fields along roads in arid northwestern Yucatan, sometimes you see leafless, rather gangly-looking, smallish trees spectacularly aflower with four-inch-broad (10cm), orangish-yellow flowers as shown below.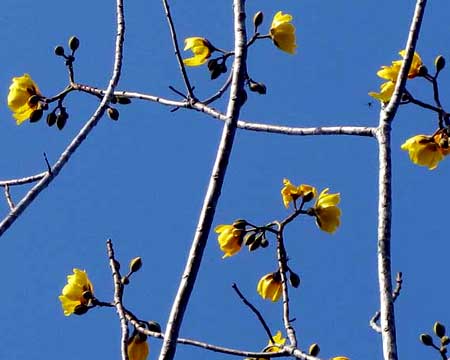 One English name for the tree is Silk Cottontree; another is Buttercup Tree, which is easier to remember. It's Cochlospermum vitifolium, a member of the Bixa Family, in which we also find Annatto, whose fruits produce the Mayas' orange-red cooking paste. Below you see a cross-section of a flower: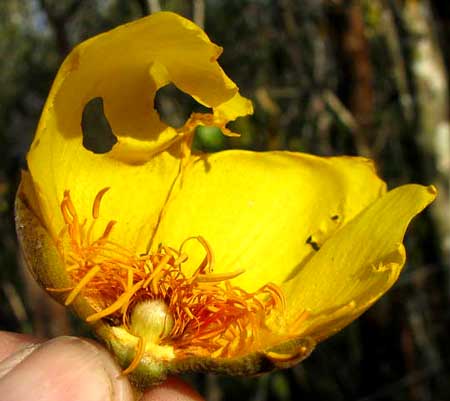 At the blossom's bottom-center, note the pea-sized, spherical, fuzzy ovary atop a saucer-like platform or "disk." Many stamens emerge from between the ovary's base and the disk. Having so many stamens and such a disk below the ovary is a little unusual among flowers, and helps distinguish the Bixa Family, which is a small, quirky one.
Buttercup Tree's fruits are bulbous, brown, jumbo-egg-size structures that split open flowerlike, revealing seeds embedded in masses of white cotton.
The species is widely distributed, not really rare but also not common, from Mexico well into Northern South America, mostly in semiarid areas. It's such a pretty tree that it's planted in gardens throughout the tropics.
A Maya shaman tells me that its Maya name is Nickte' Ch'om, and that resin from the tree is used to treat epilepsy