BLUE JACARANDA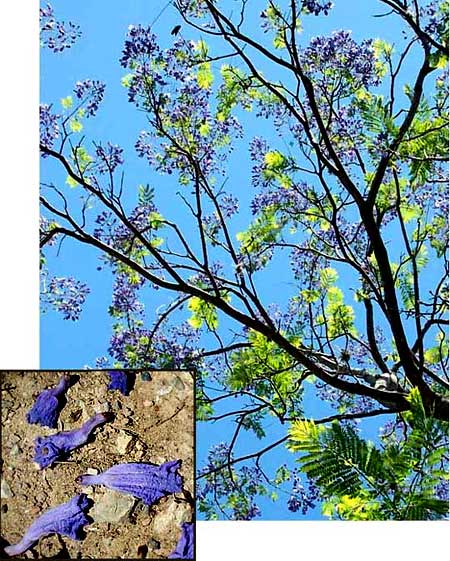 Toward the end of the dry season, in May or so, you see trees gorgeously decked out in purple flowers, sometimes with the branches completely leafless, sometimes with the season's leaves emerging with the flowers. Standing beneath such trees looking up, with the blue sky beyond, it's just beautiful, as suggested by the above photo.
In that picture, at the bottom right, notice the tree's ferny, twice-compound leaves composed of many tiny leaflets. In the inset at the bottom left you see the tree's funnel-shaped flowers littering the ground below.
One English name for this wonderful tree -- one of the most frequently planted in the tropics worldwide -- is Blue Jacaranda. It's Jacaranda mimosifolia, a native of South America. Besides being so pretty, jacarandas are popular because they can be grown easily from seeds or cuttings.
In size and shape the tree's two-inch long (5cm), tubular flowers might remind Eastern North Americans of Catalpa or Trumpet-creeper blossoms. They should, because the tree belongs to the same family as those, the Bignonia Family. Such blossoms are well adapted for pollination by large bees and hummingbirds. Field studies show that they are also vulnerable to smaller "nectar robbers" who take the nectar without pollinating the flowers. For Blue Jacarandas, honeybees are significant robbers.