BLACK MANGROVE - Mangle Negro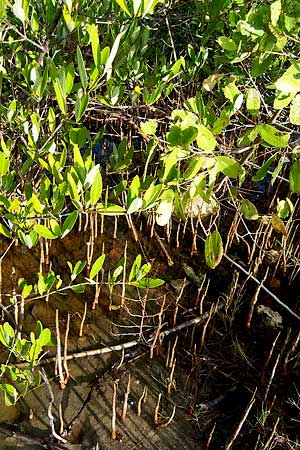 Black Mangrove, Avicennia germinans, is easy to identify because its widely spreading roots send up slender, gray-brown, pencil-like items from the mud and water to about a foot high -- as shown at the right.
These pencil-like things are known as pneumatophores. and they absorb oxygen for the submerged roots. Black Mangrove grows higher above the low-tide mark than Red Mangroves, so often you see Black Mangrove pneumatophores emerging from mud, not water.
Black Mangrove's leaves, reaching only about three inches long (8cm), are hairy below. The four-lobed flowers are white, up to half an inch long (1.3cm). The fruit is a compressed, two-valved, one-seeded capsule up to about 1.5 inches long (4cm) and an inch wide (2.5cm). Here in the tropics Black Mangrove can grow up to 70 feet tall (20m).