BITTER ORANGE - Naranja Agria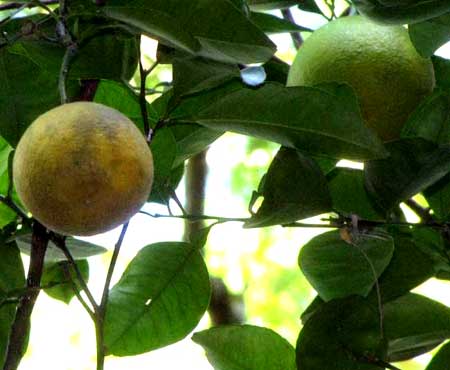 The fruits above are too large, greenish and leathery-skinned to be the sweet oranges Northerners think of when they think "orange." They are Bitter Oranges, sometimes called Sour Oranges or Seville Oranges; they're Citrus x aurantium. Bitter Orange trees are not just varieties of the same species as regular Orange trees, but rather they're an entirely different taxon.
Juice from bitter oranges makes great lemonade, plus it's nothing to see a Mexican cut one in half, salt it generously, sprinkle hot-chili powder over it, and eat it. Gringos find that remarkable because these oranges are as sour as chili peppers are hot. A cut-open sour orange displaying a thicker rind and very many more and larger seeds than most of us are accustomed to seeing on sweet oranges, is shown below: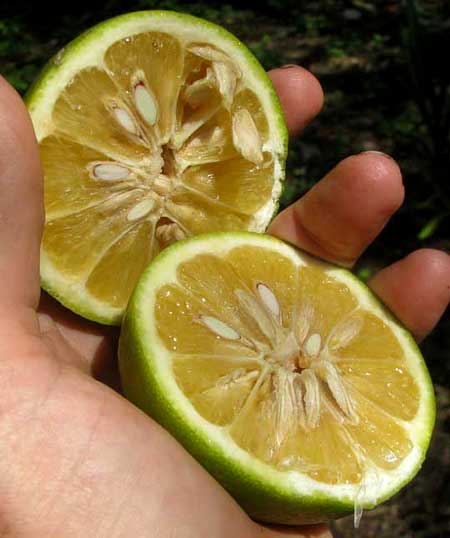 Sour Orange is native to southeastern Asia. By the 9th Century Arab traders had introduced it into Arabia. It was reported in Sicily as early as 1002, then for 500 years it was the only orange known to Europeans. It was recorded growing in Mexico as early as 1568. Probably some of the Bitter Orange trees around Maya homes in the Yucatan are direct descendents of stock introduced by the Spanish 500 years ago.
Until early 2011 most experts thought that Sour Orange trees constituted a regular species. However, now Chinese researchers have done gene sequencing studies that show that Sour Orange trees, like Sweet Orange trees, are hybrids of Tangerine (also called Mandarin), Citrus reticulata, and Pummelo, Citrus grandis.