HACIENDA SAN JUAN,
Yucatán MÉXICO
GETTING THERE:
The least expensive way is to fly to Cancun, then take a regular bus to Merida, then a "microbus" to San Juan. This requires a little traveling savvy and at least a tiny bit of Spanish. You can also fly to Merida and we can pick you up, but that will cost more. More info here.

LODGING:
You have a variety of choices. Below at the left you see the hacienda's elegantly outfitted Main House. How pleasant to sit at the table on the upper level, look out over the palm-lined lawn before you, and while being served from the kitchen to the left, study nature, or just talk about the day's events. Below at the right you have a view of the house's sala and library. Colonial bedrooms in the main house rent for 400 pesos per night (about US $38), healthy breakfast included.
To discuss a visit, email Katharine, the hacienda's owner,
or call her at 0052, (country code for Mexico) (999) 996-8621.
(In the US dial 011 for international service, then
just 52 for Mexico, and finally the (999) 996-8621)
NOTE: We can also arrange intensive
Spanish and Maya language instruction.

Next to the main building stands Casa Juanita, the low, red structure shown below at the right. While Casa Juanita is plain on the outside, inside it is very comfortable, as can be seen below at the right. Lodging here, with two double beds, living room area, kitchen, and bathroom, rents for 600 pesos per night, about US $55.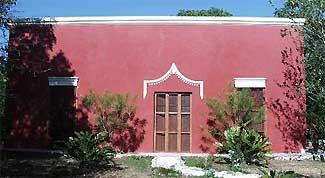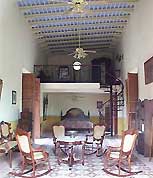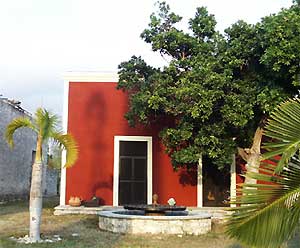 There is also Casa Chi'ich, shown at the left, equipped with a full large kitchen and three rooms plus a bathroom and a laundry room with a washing machine and dryer. A covered port for a car is also available. This can be rented on a monthly basis for US $550, or $300 for two weeks. No breakfast is supplied since you will have your own kitchen.


The grounds surrounding these buildings are maintained as gardens specializing in showcasing a fine variety of palms and other plants. Below at the right you see the trunk of a Strangler Fig growing over one of San Juan's stone fences. At the left is the view from the main house's upper level, across the lawn toward the gate and the highway beyond.
REVIEW TRAVEL BOOKS FOR THE YUCATAN, AVAILABLE AT AMAZON.COM, HERE
THINGS TO DO WHEN NOT NATURALIZING:
There's so much we have a special page. Click here.
MOVING ABOUT:
The renting of a car is recommended, though bus service to Mérida and other local destinations is an option for the adenturous with time to spare, and maybe a bit of Spanish. Several somewhat unpredictable buses pass right in front of San Juan. For those wanting to travel by bus usually the best alternative is to get to Telchec Pueblo about a kilometer west of San Juan, then catch a regular bus or mini-van. Regular bus service is available between this town and the beach at Telchec Puerto three or four times a day, and even more connections are available for Mérida. This means that you can also get to San Juan by bus if you are landing in Mérida or Cancun.
---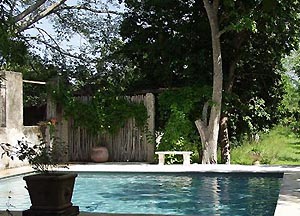 To top it all off, there's a swimming pool at Hacienda San Juan available to all lodgers.
Jim is gradually developing a "Plants & Animals of the Northern Yucatan" web site. Visitors who will help explore and document with photographs the northern Yucatan's natural history are especially welcome..
Return to the BACKYARD
NATUREHOME PAGE
This page was last updated on