An Excerpt from Jim Conrad's
NATURALIST NEWSLETTER
of February 3, 2002
issued from the woods just south of Natchez, Mississippi, USA
ODOR OF YELLOW JESSAMINE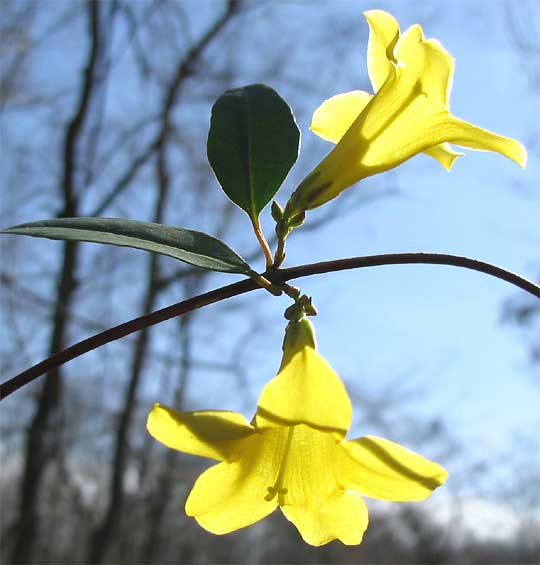 Near my trailer Yellow Jessamine, GELSEMIUM SEMPERVIRENS, climbs into young Sweetgum trees, letting a few of its bright yellow, foxglove-like blossoms dangle fairly low. Saturday afternoon after a long hike in the cool sunlight I passed by this plant and of course I had to take a sniff.
Though the odor was almost timid, for a moment it hit me like a good kick in the stomach -- the mingling of sparkling sunlight, fresh air and this unexpectedly sweet perfume evoked a practically suffocating half-second-long pang of romantic yearnings and memories. In that half second pure Eros tinged with poesy and "music of the spheres" rampaged through my soul like all the redneck hounds of Hell.
This is one of the problems with being a hermit, of keeping things simple for long periods of time: Little things like incidental flower-whiffs can knock you flat. If I had been nibbling cellophane-wrapped K-Mart candy all morning, or if lately I had been indulging my libidinousness, that Yellow Jessamine flower's odor would hardly have registered.
This experience recalls one of my theories. And that is that, in the end, most people who lead lives of regular lengths usually end up amassing pretty much the same measures of the world's pleasures and pains, its ecstasies and anguishes. If a life lacks society's usual sensual titillations, then more ethereal ones blossom out of nowhere.

.