Excerpts from Jim Conrad's
Naturalist Newsletter
from the January 3, 2016 Newsletter issued from Hacienda Chichen Resort beside Chichén Itzá Ruins, central Yucatán, MÉXICO
HUMMINGBIRD NEST IN MAMEY TREE
This week in a Mamey tree a hummingbird nest turned up typically constructed of spiderwebs and flakes of foliose lichen, as you can see below, nestled among the Mamey's long, slender leaf petioles: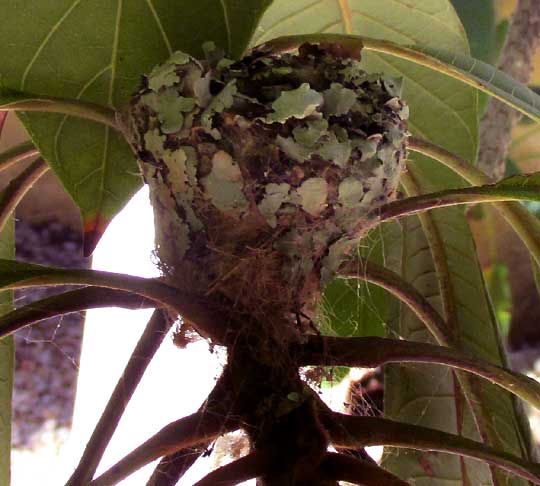 A view from above the nest shows it empty of eggs, but with what looks like bits of shattered eggshell in the bottom: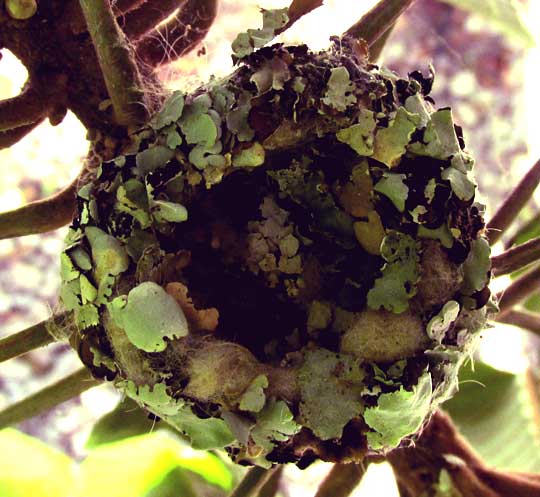 I asked the Maya workers, who seldom overlook such things, if they'd noticed a hummingbird hanging around that part of the tree and, yes, some time ago there was a tiny, greenish one zipping all over the place, but that description doesn't help much in figuring out which species it was.
Maybe the nest will be reused and, if so, we'll be watching to determine the species.
---
from the May 10, 2009 Newsletter, issued from the Siskiyou Mountains west of Grants Pass, Oregon:
A CATTAIL-FUZZ HUMMINGBIRD NEST
I show you only a tiny fraction of the pictures I take, or try to take. Especially with birds I'm just too slow. For instance, for the last month I've been trying to photograph hummingbirds removing fuzz from cattail spikes, a process I've witnessed dozens of times but never managed to get more than a blur with the camera. I haven't even been able to identify them with certainty.
The other day Anita brought me a hummingbird nest she'd found at the end of the last nesting season. The nest was made predominantly of cattail fuzz, as shown below: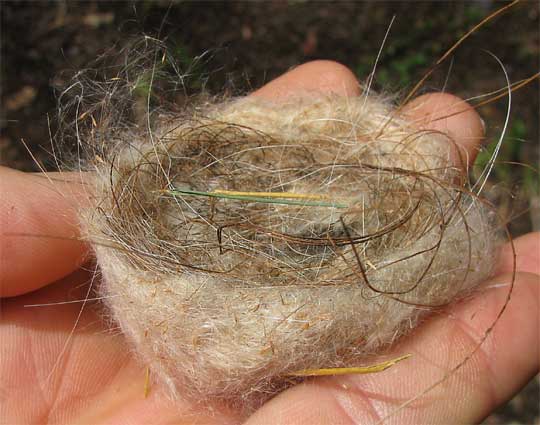 The hummingbird species nesting in this region are the Calliope, Anna's, Black-chinned and Rufous. I see the Rufous most commonly, but who knows whose nest this is?