YUCATÁN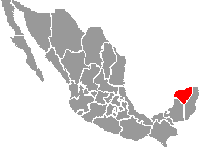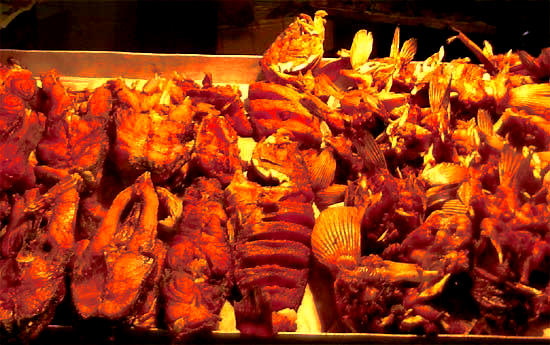 Fried fish in Mérida, photo by Ruth McMurtry of Mérida
CULINARY THUMBNAIL
Here are the most notable characteristics of this state's cuisine:
long coastline providing excellent seafood
influence of Maya culture contributes greatly to local cuisine
steamy tropical lowlands providing tropical produce
TRY THESE RECIPES:
EN ESPAÑOL:
TRADITIONAL DISHES TO LOOK FOR
Cochinita Pibil -- baked marinated pork seasoned with annatto paste, bitter orange juice and other spices, traditionally baked in a pit, in banana leaves
Pollo Ticul -- chicken prepared much in the same way as the above, with annatto paste, orange and banana leaves, but also bell pepper, garlic and onions
Pescado Tikin-Xic -- grouper fish prepared with annatto paste and baked in banana leaves.
Papadzules -- small "egg tacos" on a tortilla smothered in tomato sauce and sprinkled generously with toasted pumpkin seeds.
Chilmole -- turkey dressed with jet-black mole sauce
Panucho -- corn tortillas stuffed with bean paste and fried, then garnished in various ways, particularly with chicken breast and marinated onion strips
Salbute -- like a panucho but the tortilla not stuffed with bean paste
Sope -- like a panucho but topped with ham and cheese; in some places the "ham" (jamón) may be hamlike chicken breast or something similar.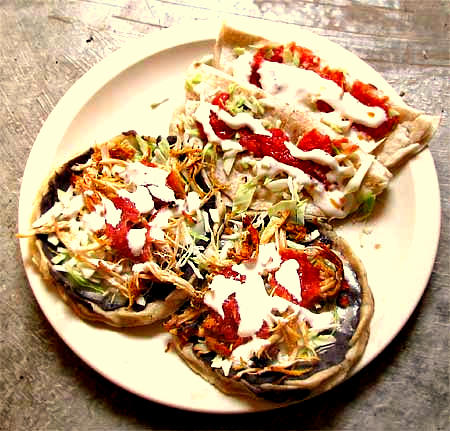 Below, sopes, more or less (tortillas smeared with bean paste), and quesadillas (above)
SWEETS
Pipián -- a kind of custard
Atropellado de coco -- coconut, sweet potato, sugar and cinnamon whipped into a paste
NON-ALCOHOLIC DRINKS
Horchata -- made with rice, cinnamon, ground almonds and sugar, served with ice
Tanchucuá -- made of sweetcorn, chocolate, allspice and sugar
ALCOHOLIC DRINKS
Xtabentún -- liquor from fermented honey
---
¿Tienes más información, recetas tradicionales, o fotos acerca de la comida de este estado? Si te gustaría compartir tu material con otros,
mándalo
y lo presentaré aquí.
Information on this page based on material presented in Gastronomía: Atlas cultural de México, 1988, an extensive and well illustrated work by various authors, published by the Secretaría del Educación Pública, Instituto Nacional de Antropología e Historia in Mexico City.