OAXACA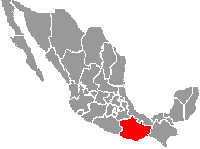 CULINARY THUMBNAIL
Here are the most notable characteristics of this state's cuisine:
strong influence of indigenous cultures
seashore, tropical lowland and cool upland environments provide a huge diversity of produce
TRADITIONAL DISHES TO LOOK FOR
Cocido -- stew usually including beef, pork, chicken, garbanzos, string beans, chayote and other small squash, cabbage, carrots, "guineo" bananas, seasoned with cilantro and hierbabuena herb, accompanied by rice and chili sauce
Mole Negro -- the most famous of many moles, this "black mole" is made with turkey
Chiles Rellenos de Sardinas (on the coast) -- chilies stuffed with small fish
Tortillas Clayudas (or "Tlayudas") (in the central valleys) -- large, thick, leathery tortillas
Totopos -- very large, perforated, toasted tortillas
SWEETS
Alegría -- toasted, popped and sweetened amaranth seeds
Ate -- candied fruit; often ate is used as a suffix on a fruit's name, so that a mangate is a mango ate, and a guayabate is a guava ate
Capirotada -- especially during Lent, a white-bread pudding with various combinations of ingredients, such as cheese, tomato, peanuts, raisins, and biznaga cactus, all covered with syrup
Gaznate -- cylindrical sweet filled with meringue
Mamón -- a bland, spongy bread of corn starch, egg, sugar, and cinnamon
NON-ALCOHOLIC DRINKS
Pozol de Cacao -- pozol is made by grinding boiled corn kernels to form the moist paste called masa, stirring the masa into water, and adding a pinch of salt or sugar; this one has ground cacao (chocolate) added
Tejata -- made from toasted and ground cacao and seeds of the mamey fruit with a certain kind of small flower.
---
¿Tienes más información, recetas tradicionales, o fotos acerca de la comida de este estado? Si te gustaría compartir tu material con otros,
mándalo
y lo presentaré aquí.
Information on this page based on material presented in Gastronomía: Atlas cultural de México, 1988, an extensive and well illustrated work by various authors, published by the Secretaría del Educación Pública, Instituto Nacional de Antropología e Historia in Mexico City.