NAYARIT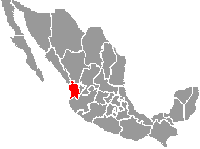 CULINARY THUMBNAIL
Here is the most notable characteristics of this state's cuisine:
Its seafood is outstanding
TRADITIONAL DISHES TO LOOK FOR
Sopa de Ajo -- garlic soup
Sopa de cebolla -- onion soup
Salsa Huichol -- sauce made with bell pepper and used with seafood dishes
SEAFOOD
Zarandeado -- fish stew seasoned with soy, tomato sauce, salt and pepper
Tamales de Camarón (on Mexcaltitán Island) -- shrimp tamales
FRUITS
Bollitos de Plátano -- fried plantain (large banana) ground with egg and served with radish slices, lettuce leaves and a special sauce made of tomato, onion, minced meat and shredded cheese
TRADITIONAL NON-ALCOHOLIC DRINK
Piznate -- cold drink made of corn, cinnamon and brown sugar (piloncillo)
---
¿Tienes más información, recetas tradicionales, o fotos acerca de la comida de este estado? Si te gustaría compartir tu material con otros,
mándalo
y lo presentaré aquí.
Information on this page based on material presented in Gastronomía: Atlas cultural de México, 1988, an extensive and well illustrated work by various authors, published by the Secretaría del Educación Pública, Instituto Nacional de Antropología e Historia in Mexico City.