CREMA DE CHAYA CON HUEVO
Recipe from the famous kitchen of Hacienda Chichén, y Chef Josué
next to Chichín Itzá Ruins in the central Yucatán, México
in English, Cream of Chaya Soup with Egg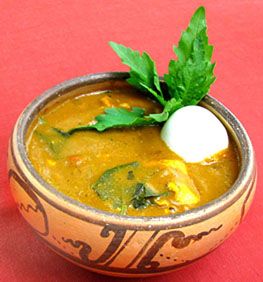 This traditional, prehispanic recipe, rich and thick, is based on two very Maya ingredients: Leaves of the plant called Chaya, much grown in Maya villages, and; ground squash seeds.
The dish is perfect for vegetarians who eat eggs.
Some of the ingrediants may be hard to find outside of Mexico or a good Mexican food store.
The Recipe serves 3.
PREPARATION
: In a pan bring the water, squash seed powder and
recado blanco
to a boil. Add the chaya leaves and salt, and cook until the leaves soften before adding the
recado rojo
and
masa
.
Let the masa cook for ten minutes. Add the eggs and cook with a low fire about 15 minutes. Add salt to taste.
INGREDIENTS

:
1 liter water
50 grams ground squash seeds
10 grams recado rojo ("red broth" made with orange-red achiote paste)
10 chaya leaves
1 tomato
50 grams masa (moist tortilla paste)
salt
20 grams recado blanco ("white broth")*
eggs in whatever amount you wish
for extra pizzaz blend a habinaro and add the paste to the soup; it's good, but dangerous...
*MAKING RECADO BLANCO
(White Broth)

¼ teaspoon cinnamon
1 clove
1 tablespoon oregano
1 tablespoon black pepper
3 garlic cloves