of the Mercado Area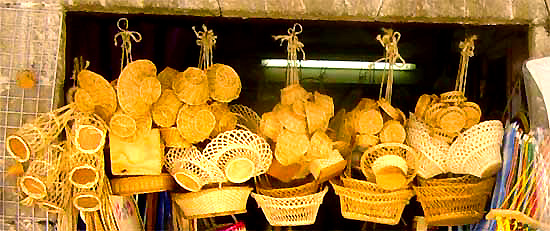 At Mercado La Fama in Mérida, Yucatán; photo by Ruth McMurtry of Mérida
J
ust for the fun of it, here are some Mexican-Spanish words often heard in the mercado's basket-weaving circles:
chuspata: a kind of marsh plant used for weaving
colote: large, conical basket made with reed
guano: fiber of palm of the genus Inodes
henequén: henequen, fiber produced by an agave grown extensively in the Yucatán
huano = guano
ixtle: fiber of maguey agave or, sometimes, other plants
jipi-japa: a palm producing slender fibers used in making Panama hats
lechuguilla: fiber from the lechuguilla plant, an agave
popote: "straw" -- slender grass stem used in basketry
sotol: a kind of agave producing strong fibers used in weaving
tule: a kind of marsh plant, particularly cattail and papyrus-like plants
zapupe: fiber obtained from a species of agave
In our "Profile" section, Francisca García Peralta, from San Luis Amatlán, Oaxaca, does a beautiful job describing the weaving of baskets, and explaining how each design has a name. In case you'd like to visit a town specializing in woven baskets, here are some of the best known:
Tequisquiapan, Querétaro, producing particularly beautiful designs.
Tasquillo, Hidalgo, whose peculiar baskets are woven of reed and equipped with tops.
Toluca, Mexico State, which produces polychrome baskets of palm, decorated with human and animal forms, and traditional symmetrical patterns.
Chilapa, Guerrero, whose de tripilla bags made of palm frond are mostly sold in Acapulco and Taxco
The process of weaving hats using plant fibers is basically the same as weaving baskets -- just with the end results fit over the head and have brims. One of the two main hat-weaving regions of Mexico is the Mixteca Alta region, the highland area occupied by Mixtec Indians, covering parts of Puebla, Oaxaca, and Guerrero. The other hat-weaving region is the Yucatán Peninsula, especially in Becal, Campeche, where Panama hats, also known as jipi-japas, are made of a fine-fibered palm.
In certain lakeside and riverside communities, such as Tzintzuntzan on Lake Pátzcuaro and towns along the Río Lerma in Mexico State, mats are woven of dried, ironed blades of tule, a name applied indiscriminately to cattail and similar marsh plants such as papyrus-like species of the genus Cyperus.