DESOTO COUNTY
On US 61, from the Tennessee Border go for 11 miles and then take a left onto MS 3.
Traveling southward here you are on flat land comprising the Mississippi River Floodplain, where here also is the northernmost part of the region referred to as the Mississippi Delta Region. At this point, our loess bluff pulls away from the Mississippi River and will not return to the river until Vicksburg. As you travel this flat land, notice on your left, toward the east, how the usually wooded loess bluff rises conspicuously from the flat ground. It is a very striking feature.
From US 61, follow MS 3 for 4 miles the intersection with MS 304, and turn left.
From MS 3, travel eastward on MS 304 for 5.5 miles to Eudora, and turn right (south) onto MS 301.
About midway through this section you abruptly climb back into the hilly loess section -- abruptly leaving flat fields of soybeans and cotton and entering rolling hills of oak and hickory forests and pastures. Begin looking for pines to appear in the forests.
From Eudora, follow MS 301 southward for 6.5 miles to Arkabutla Lake. Toward the southern end the road jags hard to the left. Just follow signs to the lake.
Arkabutla Lake, with over 11,000 acres of water and a 134-mile long shoreline, and being only about half an hour from Memphis, is a popular lake -- though on a sizzling mid-summer, mid-week afternoon, the beach can be fairly empty, as the photo below shows. Each year over 2,000,000 people visit this lake. We have a map of the dam area.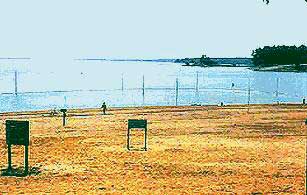 TATE COUNTY
From the dam, continue south on the main road for about a mile, then turn right onto Bundrum Road.
Continue on Bundrum Road for about 1 mile, then turn left onto Bend Road.
Continue on Bend Road for about 2 miles, then turn right onto Moore Road, which may be unsigned.
Continue on Moore Road for about 1 mile, to where it turns into gravel. Keep going on what always appears to be "the main road" as it snakes around, and theoretically becomes Bluff Road.
Bluff Road ends in 1 or 2 miles at Prichard Road. Here go right about 100 feet, then left, and find yourself again on Bluff Road.
Continue on Bluff Road as it meanders for about 4 miles, where you turn right at Arkabutla Road.
On Arkabutla Road continue for 3 miles. When the road splits at the Y in Savage, take the left and soon encounter MS 3.
The above complex navigating could be much simplified if upon leaving Arkabutla Dam you stayed on the main road south from the dam to Arkabutla, then turned right (southwest) onto Arkabutla - Savage Road, and continued to MS 3. However, then you would miss seeing the classic loess-bluff topography right at the edge of the loess bluff as you traveled on Bluff Road.
From Savage, follow MS 3 south for 9 miles to Crenshaw, and turn left onto MS 310.
PANOLA COUNTY
The following route gets hard to navigate in some places. Also, on the gravel/sand stretch named Sand Bed Drive, in some places the road deteriorates so badly that it should not be attempted if it has rained recently. At Crenshaw some travelers may be best advised to use their state map and navigate by larger but much less interesting roads to Enid Lake, our next main destination. Note also the presence of Sardis Lake and John W. Kyle State Park about 6 miles east of Sardis. See the detailed Sardis Lake Map.
At Crenshaw, follow MS 310 east for about 1000 feet, then turn right (south) onto Old Askew Road, then travel another 1000 feet and turn left (east) onto an unsigned paved road 1½ lanes wide. A concrete marker here points toward the landfill.
Continuing on the unsigned road for about 2 miles, turn right onto Indian Creek Road.
Indian Creek Road turns to gravel in about a quarter of a mile, then in about 4 miles ends at MS 315, on which you turn left.
On MS 315 go only about 3/4-mile, then turn right (south) onto unsigned, asphalt road to Delta.
On the unsigned road to Delta, go about 3 miles to Delta, then turn left onto the unsigned asphalt road.
Stay on the unsigned road out of Delta for only about 1 mile, then turn right onto the rough gravel road called Sand Bed Drive.
On Sand Bed Drive continue about 2 miles and take a left onto Ballentine Road, which is paved.
Here you are following along the very base of the loess bluff in a nicely graphic manner. The creek along your right (west) is Peach Creek.
Stay on Ballentine Road for about 1.5 miles, then turn right onto unsigned gravel road, which later on is signed as Macedonia Road.
On Macedonia Road, which becomes paved midway, continue for 6 miles to MS 6, and here turn left.
On MS 6, travel east for 1.5 miles, and turn right onto gravel McDowell Road, or, to avoid confusing navigation, continue eastward 9 miles to I-55, then go south and at the second exit follow signs to Enid Lake.
The creek you cross immediately upon embarking onto MS 6 is what is left of the Little Tallahatchi River, the damming of which created Sardis Lake about 18 miles to the northeast.
Continue on gravel McDowell Road for about 2 miles, to paved Chapeltown Road, and continue to the right (south) to Tocowa Road.
Here roads are poorly marked and numerous. Just "follow the main road" southward or southeastward. If you get lost you'll eventually hit MS 35, and then you can use your state map to get to Enid Lake.
Follow Tocowa Road for nearly 3 miles, then turn right onto MS 35.
On MS 35 go about 1 mile and turn left onto unsigned road.
Stay on this unsigned road for about 1.5 miles, then go right onto another unsigned road which may be Benson Road.
Follow Benson Road for over 3 miles, crossing Long Creek, to Crowder-Pope Road, and turn left.
On Crowder-Pope Road, go about a mile, to Pope. Continue eastward through Pope, to US 51.
Follow US 51 south 4.5 miles, to signs pointing toward Enid Lake.
YALOBUSHA COUNTY
Follow signs beneath I-55, for about a mile, to Enid Lake Dam.
Enid Lake, with exceptionally easy access from I-55, is a 6,100-acre lake with 65 miles of shore line, and all the amenities you'd expect of a recreation area administered by the US Army corps of Engineers. Lake Enid is famous for its fishing -- White Crappie, bass and catfish. The world record crappie was caught at Enid Lake.
Leaving the dam area, return the way you came, to I-55's Exit 233.
The next town visited is Charleston, 12 air-miles to the southwest. By far the easiest way to get there is to take I-55 south to Exit 227, then follow MS 32 west to Charleston. However, this would miss some attractive loess-based hill-country just to the west. If you wish to continue southward by backcountry roads, continue below I-55 a few hundred feet to US 51 and on US 51 return north to Pope, follow the road through town you earlier took, leaving town toward the southwest, on Crowder-Pope Road. After about 4.5 miles, turn left (south) on Teasdale Road and continue "following the main road" as it twists and turns all the way to Charleston, some 13 miles.
TALLAHATCHIE COUNTY
Entering from the north on Teasdale Road, just follow the main road as it twists and turns all the way south to Charleston, some 13 miles from the road's beginning. Inside Charleston, Teasdale Road is known as N. King Street. At the end of the road, inside Charleston, turn right (west) onto MS 32.
Proceed through Charleston to the intersection with MS 35, and turn left (south).
Heading south through Tallahatchie and the next couple of counties to the south, it is possible to pass through some of the most pleasant backcountry scenery along the entire Loess Bluff Route. Many roads in this area are gravel but they are well maintained. These gravel roads form a veritable maze impossible for outsiders to navigate, because they are nearly always unsigned. See our "Navigating by the sun" section.
Having read the above, make your way through Tallahatchie County's southeastern corner as best you can. The easiest way is to follow MS 35 south from Charleston to Holcomb, following closely the base of the loess bluff, but the prettiest landscape lies just to the east of MS 35, with its unsigned maze of gravel roads.
(South of Charleston, one way to enter the upland maze of mostly gravel roads is to cross Tillatoba Creek immediately south of town, then embark on the first asphalt lane to the left (east). Signs directing toward the Tallaha boy Scout Camp may be present. After that, just drift southward, "following the main road," and congratulate yourself heartily if you manage to pass through Cascilla, and ultimately pass into Grenada county, and meet with MS 35, and turn left, toward Holcomb.)
GRENADA COUNTY
The Loess Bluff Route passes through the narrow western toe of Grenada County, but the most scenic backcountry roads are typically unsigned and maze-like. Moreover, since the Yalobusha River runs north of Holcomb, and Potacocowa Creek lies just south of the county line, "navigating backcountry roads" by the sun is unproductive here, because so many roads end at the water's edge. Therefore, unless you don't mind many dead ends, or have a very fine map you wish to try, probably it's best just to follow busy MS 35 north and south into and out of this county.
Grenada Lake, just 3 or 4 miles northwest of Grenada town, is a 10,000-acre lake with 54 miles of shore line, and perhaps even a greater assortment of recreational amenities than you'd expect of a US Army corps of Engineers recreation area.
CARROLL COUNTY
In terms of navigating backcountry roads, Carroll County may well offer the most frustrating experience of the entire Loess Bluff Route from Kentucky to Louisiana. The Loess Bluff zone constituting the county's western uplands, besides having its unsigned maze of mostly gravel roads, also presents a gorgeously rugged intermingling of hills, little rivers and creeks, lakes and upland piney woods.
Busy MS 35 enters Carroll County from the north and goes to Carrollton. You can continue south on a busy, well-defined highway by going onto MS 17 inside Carrollton, leaving MS 35 from the right if heading south. You can avoid losing yourself by staying on MS 17 all the way through the rest of Carroll County. Yet, what a pleasure wandering the uplands just to the west of MS 35 in the north, and MS 17 in the south. But, if you do go into this unsigned mazeland, you'll have to navigate by the sun.
HOLMES COUNTY
If you enter Holmes County from the north on MS 17, a little over 2 miles south of Acona, or 3 miles south of the county line, take a right onto Rosebank-Mt Olive Rd.
On Rosebank-Mt Olive Rd, "follow the main road" for 12 miles, until it ends at MS 12, and you turn right (west).
At some point midway this journey, Rosebank-Mt Olive Rd. theoretically becomes CR 119, but no signs give indication of this. During the last few miles you are right at the edge of the loess bluff.
On MS 12, proceed west precipitously down the bluff, and in about half a mile turn left onto Howard Road.
On Howard Road go 3 miles to Howard.
Once again it becomes impossible to navigate looking for road names. However, for most of the distance between Howard and Yazoo City, our next main stop, there are roads of varying quality running exactly at the base of the loess bluff, or a little into the upland. Probably the best way to keep to our Loess Bluff Route here is to keep an eye on the bluff itself and try to stay at its base. The swampy land at the base of the cliff comprises the Hillside National Wildlife Refuge. In the town of Howard you may be able to commence your bluff-base travel by turning onto an unsigned road inside town, running southward, with the bluff rising immediately to the east.
YAZOO COUNTY
Entering Yazoo County from the north is very simple if you are following US 49E, for this major highway runs right into town. However, if you are trying to navigate the pretty rugged country just east of US 49E and the loess face, it is impossible to say how you will finally reach Yazoo City.
From downtown Yazoo City, travel westward on US 49W for about half a mile, then turn left onto MS 3.
Following the loess bluff south beyond Yazoo County is simple if you you just remain on MS 3, which goes all the way to US 61 at Redwood, the loess bluff usually rising conspicuously immediately to the east. However, there is a more-or-less navigable backroad route we shall now describe. On the boundary between Yazoo and Hinds Counties the road deteriorates to the point where grass grows between the tire ruts, so you must be mindful of recent weather and the capabilities of your vehicle.
About 6 miles south of Yazoo City, at the barely recognizable community of Crupp, embark on a paved road to the left, abruptly climbing the loess bluff, toward Tinsley 4 miles distant.
Just a few hundred feet below (south of) Tinsley there's an intermittent little creek, the valley of which is used by the ICRR running between Memphis and Jackson to penetrate the loess bluff. This little creek bed is a fine place for looking for semiprecious stones and fossils. You will grasp the importance of fossil findings here if you read our page about The Whales of Yazoo County.
4 miles south of Tinsley, turn right onto Oil City Rd.
Follow Oil City Rd. for 4 more miles, then turn right onto MS 433.
Follow MS 433 westward for 3 miles, then turn left onto Mechanicsburg Road. (Or continue 3 more miles to MS 3 at Satartia, then follow 3 southwestward to Vicksburg, and avoid the dirt road at the county line).
Now we embark onto the least maintained passage of our Loess Bluff Route. Basically, "follow the main road" as it winds in a generally southwestward direction. About 6 miles after leaving MS 433, you cross a new paved highway. Continue across the road, "following the main road." Before long the road turns to dirt and grass appears between tire ruts. As soon as you cross into Warren County, gravel appears. You are successful if eventually you discover yourself in the tiny community of Oak Ridge. Remember that at any time if you cross a decent east-west running road, you can take it westward and soon get on MS 3, which leads southward, easily, into Vicksburg.
WARREN COUNTY
The entry into Warren County described above follows a trail that near the county line is so neglected that during wet weather should not be attempted. If you are following that route and have the luck to not be lost, when you come to a crossroad, just keep going straight, and theoretically by not ever branching to the right or left, you will find yourself on Oak Ridge Road. Stay on Oak Ridge Road as best you can (poorly signed) and eventually it will end in plain view of a gasoline station and the Culkin Volunteer Fire Department. Take a right just before the fire station and in a couple of miles you will cross busy US 61. At this point you have the large and attractive Vicksburg National Military Park between yourself and Vicksburg. You can navigate by the sun toward the southwest, knowing that eventually you'll find downtown Vicksburg, or you can pull out your state map, find yourself on US 61, and navigate to your next stop. After Vicksburg, we go to the Grand Gulf Military Park.
Vicksburg is an historic place and it has more attractions than usual for a town of its size. You may want to review our brief outline of Vicksburg history during the Civil War. Among the spots of special interest for the kinds of folks making this trip might be:
Several antebellum homes
Gray & Blue Naval Museum
The Vicksburg Information Center describing these and many other local attractions is located on Vicksburg's south side, just north of the last exit on I-20 before crossing the Mississippi River.
Take US 61 south out of Vicksburg. After about 18 miles cross the Big Black River into Claiborne County.
US 61 is most easily located by taking the second-to-last exit on I-20 before the Mississippi River, heading westward.

US61 follows the Loess Bluff face for most of its distance through the rest of Warren county.

An alternative route out of Vicksburg is to take Fisher Ferry Road at the third-to-last exit on I-20 about 20 miles across the Big Black River, to the Natchez Trace Parkway. Once on the Trace, traveling about 5 miles southwest, one arrives at Rocky Springs Campground.
CLAIBORNE COUNTY
Stay on US 61 for about 6 miles, then turn right onto Main Grand Gulf Road (at top right below).
Stay on Grand Gulf Road (keep going straight), for about 8 miles, until reaching Grand Gulf Military Monument Park.
Grand Gulf Military Monument Park celebrates yet another spot along the Mississippi where the river's approach to high loess bluffs caused it to be of strategic importance during the Civil War. Today at this location you can visit a peaceful little park with an observation tower, a water mill and other historical buildings, lots of trees, camping sites, a museum and a "trading post." It also presents "the best preserved Civil War Battlefield in Mississippi. You might like to review our brief outline of Grand Gulf's Civil War History.
Return on Main Grand Gulf Road for nearly 4 miles, then take a left onto paved road toward Port Gibson.
This road immediately crosses a railroad track, then 1/3 mile farther the Bayou Pierre.
Follow this road for 3 miles to the intersection with US 61 inside Port Gibson, and turn left (south).
About half a mile south of Port Gibson, take the Natchez Trace Parkway south to its end in Natchez.
JEFFERSON COUNTY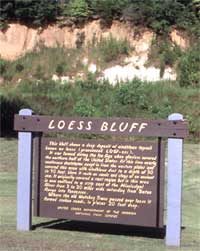 Follow the Natchez Trace Parkway all through the county.
Along the route there are several pull-off areas with exhibitions, such as the one at the right, where it unfortunately is insisted that the proper pronunciation of loess is "LOW-ess." Here is what the sign says:

This bluff shows a deep deposit of windblown topsoil known as loess (pronounced LOW-ess).

It was formed during the Ice Age when glaciers covered the northern half of the United States. At this time nearly continuous duststorms swept in from the western plains and covered this area with windblown dust to a depth of 30 to 90 feet. Here it rests on sands and clays of an ancient sea. It originally covered a vast region but in this area is now confined to a strip east of the Mississippi River from 3 to 30 miles wide extending from Baton Rouge into Tennessee.

Where the old Natchez Trace passed over loess it formed sunken roads, in places 20 feet deep.
ADAMS COUNTY
Immediately upon entering Adams county, follow signs to Emerald Mound, then return the same way to the Parkway.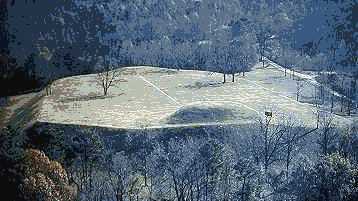 When in less than one mile the Natchez Trace Parkway ends on US 61, follow US 61 into Natchez.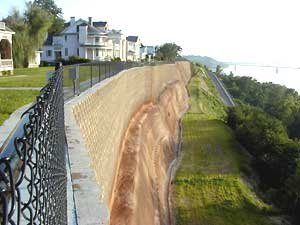 To reach the Welcome Center, which offers not only information but also some excellent exhibits, films and programs, follow US 61 past Washington, where US 84 enters from the left (east). Now follow signs for US 84 to right before it crosses the Mississippi River. The Welcome Center lies immediately to the right (north) of the last exit from US 84 before crossing the bridge. The picture here shows the loess bluffs overlooking the Mississippi on the northern side of Natchez. You can barely see the US 84 bridge over the Mississippi. In Natchez itself these attractions are particularly of interest:

Visits to various antebellum mansions
Heading south from Natchez on US 61, on the outskirts of town, at the first stoplight after crossing St. Catherine Creek, turn right onto Beltline Hwy.
Or, continue on south on 61 for a couple of miles and have some pretty decent eating at the Mammy Restaurant shown below.
About a half mile beyond the county line at the Homochitta River, turn right onto paved road later signed as Doloroso Loop, and continue "going straight" on this curvy road for about 6 miles when it crosses the Buffalo River and turns to gravel.
In the summer of 1999 an old fellow in Ft. Adams General Store shown at the right told me that atop the hill before the store the foundation of the old fort was still visible, as were gun emplacements, but they were all now inaccessibly overgrown by bushes. He had remembered seeing them as a kid.