The Club Fungi
(the Basidiomycetes)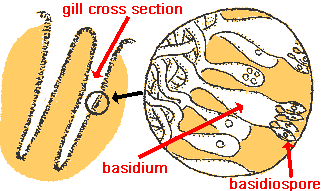 Most but by no means all of the most interesting fungi we find in our neighborhoods are club fungi. As the drawing at the right indicates, the name "club fungi" derives from the fact that in this group spores, more technically known as basidiospores, are produced on microscopic, club-like structures called basidia (singular basidium). In fact, in technical texts this group is usually referred to as the Basidiomycetes or Basidiomycota..

Basidia cover part of the fungus's reproductive structures. In gilled mushrooms (one is illustrated below), the gills are covered with them. The above diagram shows a cross section of such a gill. Basidospores detach from the basidia and drift down out of the gills, and then are dispersed on wind currents. Basidia occur elsewhere on the fruiting bodies of non-gilled fungi. You might want to compare this diagramm showing basidia and basidiospores with the diagrams showing asci producing ascospores on the sac fungus page and gametangia producing zygospores n the conjugation fungus page.